Carrier Services T1
T1 Facts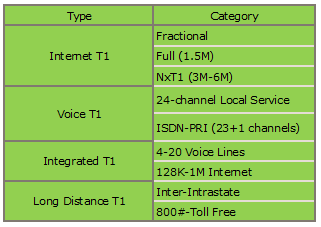 T1 is a dedicated high-speed digital connection providing total bandwidth of 1.544 Mbps. A T-1 line consists of 24 individual channels, each transmitting up to 64Kbits per second. Each 64Kbit per second channel can be configured to carry voice or data traffic. A circuit configured with less than 24 channels is known as a fractional T1.
PRI T1 is a type of ISDN, and includes 23 B-channels and one D-Channel. PRI T1 is used primarily for voice traffic, but also supports data and video applications. High demand PRI features include caller ID, DID and accounting codes.
T1 lines are also a popular option for businesses connecting to the Internet. While T1 leased lines are more expensive than DSL or satellite, they are more stable and generally support a higher number of users. T1 lines are sometimes referred to as DS1 lines.
Features and Benefits
100% availability
Speeds range from 128K – 1.5Mbps
Dedicated point-to-point connection
Time-tested connection with guaranteed speeds, uptime and reliability
Allows data to travel in both directions simultaneously
Free Internet Access
Service response time (2-4 hours)
Static IP addresses
Standard email accounts
If you are interested in receiving T1 quotes online, please submit information on the Quote Request Form on the right side of this page for the Internet T1 connection you need, and one of our sales representatives will provide you with pricing for all t1 lines.